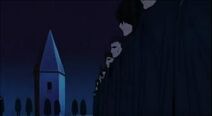 Vampire
Vampire is a noble race in monster world.
Appearance
Edit
The Vampires appears like Humans.
Information
Edit
Their are a noble race in Monster World.
Their also one of the dangerous race.
They were gifted in knowledge and power.
They are the race that not trustworthy because they only think about only themselves.
They are not making any kind of deals to anyone not even in their own kind.
Abilities
Edit
Normal Abilities
Edit
Floating - The ability to fly into midair.
Scatter - The ability to divide the vampire into bats.
Control - The abilty to manipulate the target.
Familliar Bats - They can use and give orders to bats.
Other Abilities
Edit
Cresent Moon - When the moon is in crescent form the abilities of a vampire will increase.
Ad blocker interference detected!
Wikia is a free-to-use site that makes money from advertising. We have a modified experience for viewers using ad blockers

Wikia is not accessible if you've made further modifications. Remove the custom ad blocker rule(s) and the page will load as expected.