Sword Being




Name
Name
Sword Being
Jp name
Unknown
Characteristics
Hair Color
Unknown
Eye Color
Unknown
Personal Information
Status
Unknown
Race
Unknown
Gender
Unknown
Relatives
No Relatives
Affiliation
Group
Gilliam House Members
Debut
Manga
No Appearance
Anime
No Appearance
OVA
Ep2
Seiyu
Japanese
No Seiyu
English
No Seiyu
Sword Being is a living sword use by Gilliam to fight.This is also one of his Blood Warriors.
Appearance
Edit
Sword Being have a eye near in the handle.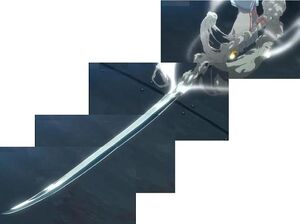 Ad blocker interference detected!
Wikia is a free-to-use site that makes money from advertising. We have a modified experience for viewers using ad blockers

Wikia is not accessible if you've made further modifications. Remove the custom ad blocker rule(s) and the page will load as expected.